---
SPEAKERS
---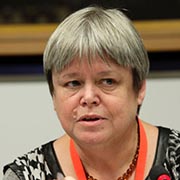 Lutgart
Spaepen
---
Consortium Leader Enterprise Europe Network Flanders
Lutgart Spaepen worked for the Italian Ministry of Foreign Affairs until 1988, after graduating in Translation & Interpretation studies English/Italian in 1980 .
From June 1988 until July 1998 she taught Italian language, culture, politics and business climate at the Handelshogeschool (now part of KU Leuven) in Antwerp (B), where she also co-ordinated a seminar on European Affairs.
In 1998 and 1999 she was in charge of the liaison office of the Flemish government with resp. Latvia, Estonia, Lithuania. During this period she gained also experience in several bilateral and EU co-operation projects preparing the three Baltic countries for their accession to EU membership.
From April 2000 till May 2003 Ms Spaepen was responsible for the EHSAL Export Research project and she was also acting head of the Centre for External Co-operation at EHSAL European University College in Brussels (now part of KU Leuven):
As acting head of the Centre for External Cooperation of EHSAL, she has been  coordinating several EU projects:
From mid 2003 till September 2006 she was EHSAL's Business Development Manager.
From 2000 till 2007 Ms Spaepen has been teaching European SME policy and Economic Geography in the postgraduate Master course 'European Business' at EHSAL, where she was also member of the steering committee for the post graduate course "International Business development".  
As a member of the Team Europe expert and conference speakers' team appointed by the European Commission in 1989, she has been involved in several EU-projects and programmes, both as a project expert and as a conference speaker.
From September 2006 till February 2008 Ms Lutgart SPAEPEN has been Director International Enterpreneurship at the VOKA Chamber of Commerce and Industry in Halle-Vilvoorde (B) and Head of the EuroInfoCentre for the Province of Flemish Brabant.
Since February 2008 until today Ms SPAEPEN is head of the Enterprise Europe Network (EEN) consortium in Flanders (B) and director at VLAIO Innovation & Enterprise Flanders where she is mainly in charge of the implementation of the EEN working programme. As head of the consortium she is liaising with Flanders Investment and Trade Lutgart is part of the management council of Enterprise Flanders and also assisting other business units in EU project management (mainly INNOSUP-H2020).
Lutgart is also main coordinator of the implementation of Erasmus for Young Enterpreneurs programme in Flanders since the start of this EU project in 2008/2009.